If there's one positive thing you can learn from a crisis once you're through it, it's how to prevent it from happening again.
The COVID-19 pandemic crisis has left thousands of people in a financial crisis. Right now, it's more important than ever to assess your situation and create a strategy. This will ensure you are safe and secure the next time another crisis rolls around.
Today on the Corrie Lo Show, I'm speaking to Matt Newmann about Financial Disaster Planning.
Matt, a financial services wholesaler, and father to three small children, was diagnosed with grade three astrocytoma (brain cancer) at 39 years old. His memoir, Starting At The Finish Line, chronicles the journey that he and his entire family took together which got him to a place of clarity, understanding, and appreciation.
After our conversation, you'll have actionable strategies you can take now to ensure you are secure if another crisis comes around.
Disaster Preparedness Plans Highlights
Planning is not taught in the US Education System
Preparing for the worst financially is a subject not even broached within the US Education system but is so essential for our next generations success. Matt speaks to how if kids were taught at minimum how employee benefits work, what an impact it can have on keeping them protected.

The #1 action you can take today to be prepared
If you don't have one yet, get a will. Make sure it also outlines your power of attorney. This can be done through a website like Legalzoom or you could speak to a local financial planner or estate lawyer to get it rolling.

The #1 value of planning in advance
By taking charge and preparing in advance, you alleviate regret and resentment from your loved ones for having to shoulder the burden for you. It also allows you to focus 100% of your energy to the fight at hand.
In Summary…
It's never too late to be prepared for the worst, and it doesn't need to take a lot of effort to be so. Having a disaster preparedness plan is one of the best decisions you can make for yourself and your family in times of crisis. Get started on your own today.
Connect with us!

? Connect with Matt: www.matthewsnewman.com
? Instagram: @startingatthefinishline
? Facebook: @startingatthefinishline
? Twitter: @finishline_matt
? LinkedIn: @matthew-newmann
? Connect with Corrie: www.corrielo.com
? Instagram: @iamcorrielo
? Facebook: @iamcorrielo
? Twitter: @iamcorrielo
? YouTube: @iamcorrielo
? LinkedIn: @iamcorrielo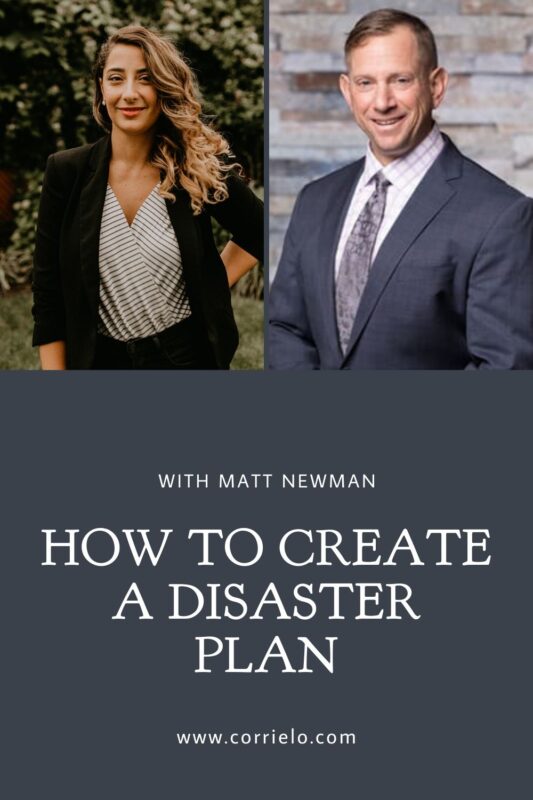 Which of these actions will you be taking to increase your financial preparedness?
Leave a comment below.