We all have our share of dreams, aspirations, and goals, but how many of us actually go about accomplishing them?
Unfortunately, many of us set goals for ourselves only to lose sight of them later in life. If this sounds like you, don't worry.  It's never too late to get back on track. 
Today, you'll learn a super simple method that will help with building self accountability and motivation. Here are the exact steps you can take to stay accountable to your goals, no matter how big or small they may be!
Building Self Accountability and Motivation – How to Do It
1. Set clear goals.
Accountability starts with clarity.
Think about it: when you're unsure about what you want to achieve, you're less likely to actually make it happen. You'll quickly get distracted by other priorities and might lose focus on what you originally set out to do.
So if you'd like to progress faster, you must accomplish the first step, which is to set clear goals that you can stick to.
Goal-setting for an entire team works the same way as well. You just need to set the right goals and have the team get on board with the goals you have in mind.
For starters, don't put your focus on vague goals like "I want to be more successful." Instead, think about specific ways you can achieve that goal.
If you're unsure how to do this, go ahead and check this post out. This is where you'll find the simple steps you need to take to set the right goals. 
Once you've identified your goals, then you're ready for the next step.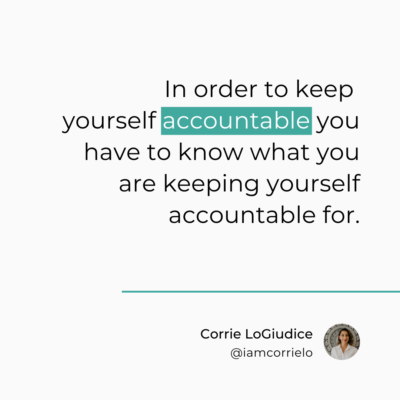 2. Implement a recap routine.
Don't let the name fool you. A recap routine is not as complicated as it sounds. In fact, it's as simple as setting an appointment with yourself (and with your team), so you can go over your progress towards set goals over a period of time.
These check-ins are crucial to self accountability and motivation and must be done regularly because they will allow you and your team to keep your goals in perspective and hold yourselves accountable for your progress. 
Recap routines will also help ensure that you won't lose sight of your goals, even when you get temporarily sidetracked with other things. Above all, this routine is the perfect opportunity to see how far you've gone in reaching your goals.
The frequency is entirely up to you when it comes to recap routines, but I highly recommend sticking to a weekly, monthly, quarterly, bi-annually, and yearly schedule.
3. Manage your to-do list with a calendar.
Having a to-do list is a good start, but managing it with a calendar will make all the difference because it will force you to stick to your commitments!
Calendars are an effective way of organizing your daily tasks, making them ideal for keeping track of your goals. Not only does a calendar keep you organized, but it'll also make sure you don't forget any important dates or events.
Plus, you can be pretty flexible when it comes to calendars. In fact, you don't need anything fancy. A simple planner will do. You may also use spreadsheets, or a calendar app, like Google Calendar. Or, if you'd like to take your team's productivity to a whole new level, you may also use project management tools like Asana. 
The point is, no matter what kind of calendar you use, it needs to be integrated with your goal-setting routine so you can keep track of your progress and stay accountable.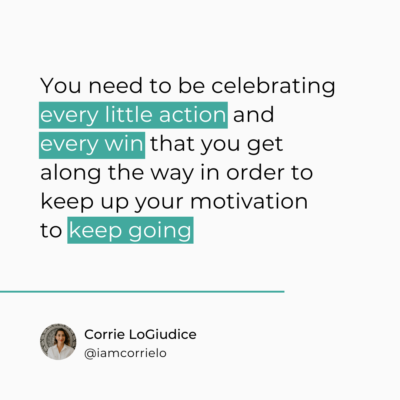 4. Build self accountability and motivation by regularly asking yourself these questions. 
Asking yourself the right questions can be one of the most powerful ways to stay accountable for your goals. Doing this regularly will help you get clear on what exactly you're going to do and how you're going to do it. They also provide you with a means to reassess your progress, which is critical for keeping yourself on track.
The questions you should be asking yourself during recap routines are the following:
What went well?
Asking this question during recap routines will allow you to see where your little wins are. It will also teach you to focus more on the positive side of things.
Asking 'what went well?' on a regular basis will help you keep moving forward and avoid getting discouraged, especially when you get stuck.
As for me, I like to gain a deeper understanding of my little wins, which is why I often take my recap routines a little further by creating an outline of my victories (no matter how small they may be). I even scroll through my emails to get a visual reminder of these moments of triumph.
What didn't go well?
If you ask yourself what didn't go well, you'll learn to pinpoint your weak areas and take the necessary actions to improve them. For example, if you're unable to stick to your to-do list, you might need to spend more time planning your day or making sure you have enough time to finish all the tasks.
Asking 'what didn't go well?' on a regular basis will help you identify your mistakes and weaknesses and be able to own them. You'll also learn that things aren't going to work the way you want all the time and that you need to have a few other options to overcome these setbacks.
Creating a list of the things that didn't go well may also give you a better idea of how to approach things in the future.
What will I do differently?
This question is probably the most important one on this list.
Asking 'what will I do differently?' forces you to think about the actions you can take to make things better.
For example, if you find that you aren't reaching your goal-setting targets, you need to ask yourself what you can do to make sure that doesn't happen again.
Like the other questions before this one, I also list down the ways I can do differently to be more successful in achieving my goals.
Asking 'what will I do differently?' will help you focus on improving your performance. It'll also help you identify your weaknesses and avoid committing the same mistakes in the future. Above all, you'll have complete visibility of your progress that will allow you to determine the winning strategies so you can double down on them.
What will I focus on next?
This last question is all about figuring out the next steps you can take. I recommend that you pick and work on three priorities at most for a specific timeframe.
I like to use post-it notes to remind me of my priorities for the week — and you can do the same thing as well. This way, you'll be able to stay focused on the task and hand and keep yourself accountable.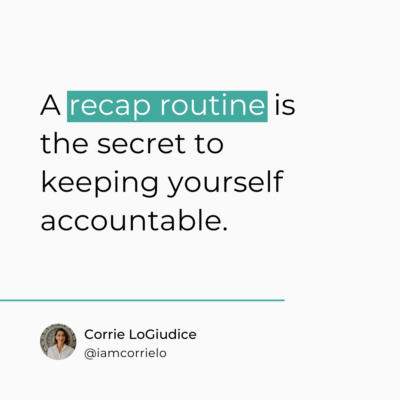 In Summary
As you can see, building self accountability and motivation is not rocket science, but it doesn't need to be a challenge either. Building accountability is simply acknowledging that you have control over what you can prioritize with your time.
I hope this guide has been helpful for you.  If you know anybody who needs this advice, share this article with them.  Or, join my email list for more productivity and leadership tips and tricks!